Online training for the Isle of Man
Revealing the Sunflower
The first Sunflower-friendly Island
Discover the role the Sunflower plays in making the invisible, visible. In partnership with Compassionate Isle of Man, we are hosting a series of free online Sunflower training events to all businesses and organisations, based on the Isle of Man, to create the first Sunflower friendly island.
By attending one of the three online Sunflower training webinars, you have the opportunity to gain the knowledge required to understand what a hidden disability is, recognise the purpose and role that the Sunflower plays in revealing those who choose to make their hidden disability visible and to feel confident in approaching and offering a Sunflower wearer the support, patience and understanding that they may require. The online event will last for 30 minutes and will include a brief introduction followed by three training videos and ending with a Q&A session.
Once your business has taken part in the training, you will have the option to order an official Isle of Man Sunflower sticker to display on your premises and your business will be added to our Sunflower locator map, so that our wearers can find you. You can also choose to purchase Sunflower products to distribute them for free to any colleague or customer with a hidden disability.
Register to join the Isle of Man 'Reveal the invisible' Sunflower training event on Tuesday 4 May at 2pm
If you are a business or organisation located on the Isle of Man, enter your details below to attend the Sunflower training taking place on 4 May. If you cannot attend this session, you can register for one of our alternatives dates by clicking on the relevant one below: any one of our events taking place on the following dates:
Monday 10 May at 4pm | Monday 17 May at 11am
Together, let's raise awareness about the Sunflower
Raising awareness of the Sunflower and hidden disabilities means that more people will be aware that some of us live with a hidden disability and can face challenges in our daily lives. Let's make sure everyone knows that the Sunflower is there to indicate that someone who has chosen to wear it may need some additional support, understanding or a little more time and to always be shown kindness.
If you would like to stay in touch and receive our latest Sunflower news and updates by email, please subscribe below
<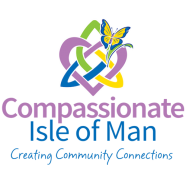 Recognising the importance of families, friends, neighbours and communities working alongside one another as well as statutory services, Compassionate Isle of Man operates on the premise that tackling loneliness, and talking about death and dying is everyone's business. Aiming to transform societal attitudes and behaviours around death, dying, loneliness and isolation, Compassionate Isle of Man looks to enable and empower people to help and support one another at times of crisis, increasing health need, death, dying and bereavement. By building resilience, promoting well-being, connecting with people and being kind, our initiative aims to create community connections and nurture a compassionate community to enhance the overall quality of Island-life by delivering a number of schemes.
Find out more about Compassionate Isle of Man by clicking here.