The Hidden Disabilities Sunflower has today launched in Ireland. This means that people living with a hidden disability in Ireland will now have easier access to the Sunflower. People with non-visible disabilities will be increasingly supported as more businesses and organisations throughout the region start to recognise the lanyard. With a local representative, reduced postage costs and a dedicated, country specific website, we are better equipped to support both our Sunflower wearers and the organisations that support the initiative in this area.
Irish Ferries and three of Ireland's airports: Ireland West Knock, Cork and Donegal, are already welcoming Sunflower passengers with colleagues trained to recognise the lanyard. Other locations across the country that have adopted the Sunflower include some of the big multi-nationals: Aldi Ireland, Tesco Ireland, ICTS and B&Q. As well as some smaller businesses and organisations: Core Credit Union, Hammerson Ireland, Whitewater Shopping Centre, Five Good Things Cafe and Dundrum Town Centre. The Sunflower is also already recognised in two educational settings: Atlas Training and Setanta School. A full list of venues where the Sunflower is recognised is available on the Hidden Disabilities Sunflower location map
Across Ireland, 1 in 5 people live with some form of disability and 80% of these are non-visible. That's just under 1 million people. There have been many local schemes established to provide support for these people , however we recognise that people travel widely and still need help and support away from home. There is significant opportunity for businesses and organisations globally to develop their awareness of hidden disabilities and the Sunflower lanyard is a great catalyst to drive change.
Our new person on the ground – Tristan Casson-Rennie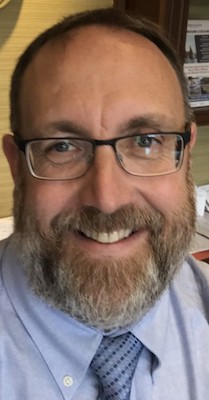 Tristan lives in County Clare with his husband Scott and their three children Frasier, Brandon and Jacob. Tristan and Scott were one of the first same-sex couples to adopt children after the Adoption and Children Act (England) 2002.
Tristan previously worked in the railway industry for 25 years, most recently as Customer Service Manager responsible for the route between London Euston to Birmingham and Liverpool.
When their youngest son Jacob was placed for adoption in 2014, Tristan decided to step away from the railway industry and become the stay at home Dad. Jacob has Foetal Alcohol Spectrum Disorder (FASD) and has worn the Hidden Disabilities Sunflower lanyard since it was first introduced in 2016.
Tristan and Scott returned to live in Ireland in 2018 as Jacob found mainstream school difficult, and the support services including CAMHs (Child & Adolescent Mental Health service) were struggling to provide any effective strategies. Ireland offered a more holistic and supportive approach to children with Special Educational Needs and the family really haven't looked back! Jacob is now flourishing both at school and in life.
In 2021, Tristan established FASD Ireland, a not-for-profit that aims to raise awareness and provide support to families living with FASD in Ireland. There is a very successful FASD Hub in Scotland, and it is Tristan's long-term goal to provide a similar experience in Ireland.
"As a family that enjoys travelling it was always very frustrating for me that the Hidden Disabilities Sunflower lanyard was recognised around the world, however didn't have a strong presence across Ireland. Some airports in Ireland have designed their own unique scheme - which is fine for the start of the journey, but totally worthless when arriving in the destination!
During the Covid19 lock down and a couple of staycations, it became apparent that there really is a need to develop awareness, promote and expand the Hidden Disabilities Sunflower across Ireland.
Wearing the Sunflower lanyard removes Jacob's stress when we go through airport security. The staff seek out people who wear the Sunflower and immediately provide one to one support. My aim is to ensure that this level of support and recognition is replicated across all public transport networks, shops, healthcare settings, sports facilities and places of education throughout Ireland. Supporting people with invisible disabilities wherever they choose to be. "
With Tristan based in Ireland we are now able to focus on reducing the postage costs to both customers and businesses within the country. Tristan aims to raise awareness and promote the Hidden Disabilities Sunflower throughout travel & tourism, retail, education, sport, welfare and healthcare.
Paul White, CEO at Hidden Disabilities Sunflower, said: "I am absolutely delighted that we now have a local agent providing the Sunflower in Ireland. Our aim is to grow the Sunflower across all elements of Irish society and to enable people with non-visible disabilities to be supported when they are going about their daily lives."
We are excited to welcome Tristan to the team and anticipate that he will greatly help the Sunflower continue to grow for people with invisible disabilities living in Ireland.