As part of the ongoing fight against the pandemic, the NHS is rolling out the largest vaccination programme in its history. In a race against time and to stem the spread of coronavirus that is sweeping the UK, vaccination centres located in GP surgeries, NHS hospital hubs and mass vaccination centres will be administering the COVID-19 jabs.
Hidden Disabilities Sunflower is working with the NHS to support people with hidden disabilities during this crucial vaccine roll-out by providing free Hidden Disabilities Sunflower training and products to NHS vaccination centres. This means that an individual who chooses to wear the Sunflower can be confident they will be supported with the extra time, care, patience or understanding that they may need when visiting one of the vaccination centres that recognises the Sunflower.
Please be aware that wearing the Sunflower Lanyard does not mean you are exempt from wearing a face-covering - please see the UK Government Guidelines here for details on being face-covering exempt.
If you are an NHS COVID-19 vaccination centre and want to find out more about supporting people with hidden disabilities by recognising the Sunflower, click the button below:
---
But what about people with hidden disabilities?
People with hidden disabilities could experience significant challenges during the vaccination process, ranging from anxiety, an inability to process and retain information or visual and hearing impairments through to not being able to stand for long periods of time or having limited access to toilet facilities. Wearing the Sunflower can help to make these invisible challenges, visible so that Sunflower wearers can highlight that they may need extra support, care or simply a little more time when visiting one of the vaccination centres listed below.
Vaccinations at the Brighton COVID NHS Mass Vaccination Centre
With up to 3,000 vaccines administered a day, The Brighton Vaccination Centre is the largest hub in Sussex. Staff have received the Hidden Disabilities Sunflower training and have been welcoming people through their doors.
With that many appointments every day it is a slick operation. The pandemic has been incredibly difficult for everyone and the NHS want to protect as many people as they can. Clinical Nurse Manager, Susie, explains why it is important that people with hidden disabilities feel at ease, recognizing the Sunflower means that they can offer that extra time and understanding.
COVID-19 NHS vaccination centres that recognise the Hidden Disabilities Sunflower
(This list is constantly updated as more NHS vaccination centres join the Hidden Disabilities Sunflower Scheme)
Airedale General Hospital
Amicus Health
Barts Health NHS Trust
Blackthorn Health Centre
Blackpool Teaching Hospitals
Bowling Highfield Medical Practice
Bradford Teaching Hospitals NHS Foundation Trust
Bridgewater Community Healthcare NHS Foundation
Brighton General Hospital
Bristol, Ashton Gate Football Stadium
Byron Hall
Cambridge University Hospitals
CAMHS South Edinburgh
Cardiff &Vale University Health Board, Cardiff
Churchdown Surgery
CPFT CAMHS
Conquest Hospital
Copsewood Medical Centre
Cwm Taf Morgannwg University Health Board
Derriford Hospital
Dorset County Hospital
East and North Hertfordshire Hospitals
East Kent University Hospital
East London NHS Trust
East Sussex Healthcare NHS Trust
Epsom & St Helier NHS Trust
Epsom and St Helier Hospital
Essex Lodge Surgery
Etchingham Vaccination Centre
Fell Tower Medical Centre
Glasgow Royal Infirmary
Gloucestershire Hospitals Trust
Gloucestershire Health & Care NHS Trust
Great Western Hospital
The Grenfell Health and Wellbeing Service
Guy's & St Thomas', London
Hathaway Medical Centre
James Paget University Hospitals, Great Yarmouth
Johnson Building
Kingston Hospital
Lancashire Teaching Hospital, Preston
Liverpool University Hospitals
Manchester Local Care Organisation
Meridian Centre
Milton Keynes University Hospital
Moat House Surgery
Mount Gould Hospital
Musgrove Park Hospital
NHS South West London CCG
North Bristol NHS Foundation Trust
North West Anglia, Peterborough
Norwich Community Hospital
Old Orchard Surgery
Portsdown Group Practice
Ravenswood House, Portsmouth
Royal Bath and West Showground
Royal Blackburn Hospital
Royal Cornwall Hospitals NHS Trust
Royal Devon & Exeter NHS Foundation Trust
Royal Free London
Royal Surrey Hospital
Sedlescombe & Westfield Surgeries
Sleaford Medical Group
South Tees NHS Trust, Middlesbrough
Surrey & Sussex Healthcare
Sussex Education Centre
Tameside & Glossop A&E
Taunton Racecourse
The Royal Bath and West Mass Vaccination
University Dental Hospital of Manchester
University Hospitals Bristol and Weston
University Hospital Plymouth
United Lincolnshire Hospitals NHS Trust
University Hospitals Coventry & Warwickshire
University Hospitals Derby & Burton
University Hospital of Wales, Heath Park
Villa Park
Welcome Building Vaccine Centre
Weeping Cross Health Centre
Westgate Leisure Centre
Westrop Medical Practice
Wirral Hospital
COVID-19 Boots vaccination centres that recognise the Hidden Disabilities Sunflower:
Alfreton High Street
Alton High Street
Anchor Retail Park
Bar Street Southampton
Barnsley Cortonwood Retail Park
Basildon Town Square
Belfast
Berwick Tweed Marygate
Bluewater
Bristol Cribbs Causeway
Bristol Imperial Retail Park
Buxton Spring Gardens
Carlisle
Chatham Pentagon Centre
Chester Foregate Street
Coventry Lower Precinct
Dartford Bluewater Park
Derby Intu Shopping Centre
Durham
Gloucester Eastgate Street
Greenford Westway
Guildford High Street
Halifax Market Street
Hartlepool
Haverhill High Street
Huddersfield King Street
Huntingdon High Street
Inverness Retail Park
Kingston Upon Thames Union Street
Leicester Fosse Park Shopping Centre
Liverpool New Mersey Retail Park
London Beckton Gallions Reach
London Canary Wharf Jubilee Place
London Fleet Street
London Kew
London Wood Green High Road
Luton The Mall
Neath
New Mersey Retail Park
Newark Stodman Street
Newbury Northbrook Street
Newport Gwent Commercial
Norwich Riverside Retail Park
Nottingham Beeston
Nottingham Victoria Centre
Oxford Cornmarket Street
Scarborough Westborough
Sheffield Crystal Peaks Retail Park
Southampton West Quay
Southend The Royals Shopping Centre
Southport
Staines Two Rivers Retail Park
Stratford Upon Avon Maybird
Swansea The Quadrant
Taunton High Street
Uxbridge
Weston Super Mare High Street;
---
I have a hidden disability and I am waiting for a vaccine
Information on the Covid-19 vaccination advice can be obtained from the NHS here as well as from the UK government here.
The NHS will contact you when it's your turn for your jab, either by phone, text or by letter. Don't contact the NHS for your vaccine, they will contact you. Check the list above for a list of all the vaccination sites that support the Hidden Disabilities Sunflower. Training has been provided to staff recognise the Sunflower and to offer any additional time, care or support that you may need
Who gets the vaccine first?
Top of the priority list are people who live and work in care homes, followed by people over the age of 80 and frontline health and social care workers - including NHS staff. Next on the list are people over the age of 75, and the fourth group are people aged 70 and those classed as clinically extremely vulnerable. This last group, who are the same as those who have been advised to shield, includes people such as organ transplant recipients and cancer patients.
Protecting yourself while you wait for the vaccine
Even though vaccines are being rolled out, you may not get yours for a while. This makes it very important you continue to protect yourself from catching or spreading the virus while you wait for yours. This includes:
following the government guidance that's applicable to you (where you live and how vulnerable you are)
washing your hands often, with warm water and soap, or using alcohol-based hand sanitiser
staying at least 2m apart from people you don't live with or are not in your support bubble
wearing a face covering, if you can wear one.
Q&A
Will these locations provide the Sunflower lanyards?
No. In this instance, we have advised each location that they are under no obligation to provide Sunflower lanyards.
Where can I obtain a Sunflower lanyard and other items?
These can be obtained for free from one of our supporting businesses (a map can be found here showing their location) or you can buy one from our store by clicking here.
What if the site who is providing my vaccination is not on this list?
This will mean that they have not signed up to recognise the Hidden Disabilities Sunflower and have not received a free vaccination pack.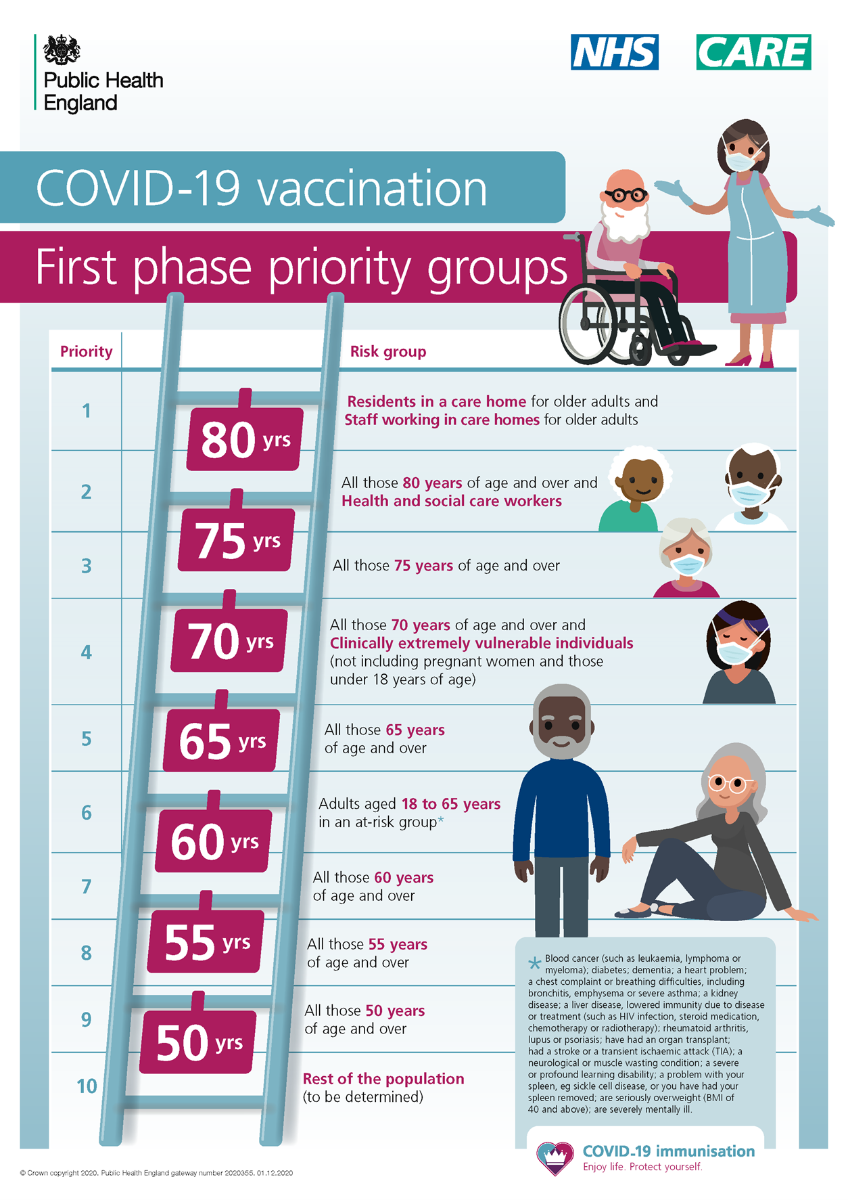 How to join - for NHS COVID-19 vaccination centres
If you are an NHS COVID-19 vaccination centre and want to support people with hidden disabilities by recognising the Sunflower, please click here below to open an account:
---
What happens next
Once your account has been approved, we will provide you with the following for FREE:
a code to order your free COVID-19 vaccination pack (details below)
a selection of promotional products to demonstrate that you recognise the Hidden Disabilities Sunflower to your patients and colleagues
full access to the Sunflower training for yourself and your colleagues
you will be added to our list above of vaccination sites that recognise the Sunflower to promote your support to people with hidden disabilities during this challenging time. We will also promote your recognition across our social media channels to inform the Sunflower wearers as to where they will be supported
use of the Sunflower supporter logo to add to the vaccination communications you provide to your patients
Q&A:
What do I receive in my Covid Vaccination packs?
There are 3 kinds of packs for pharmacies and surgeries, hospitals and mass vaccination centres. Products provided in each as follows:
Pharmacy and Surgery Pack
2 x A3 poster
1 x A2 poster
2 x A4 training info sheet
Hospital Pack
2 x A2 posters
2 x A3 posters
Free Sunflower training
2 Supporter lanyards
Mass Vaccination Pack
10 x A2 posters
10 x A3 posters
Free Sunflower training
5 Supporter lanyards
How do I obtain the video training?
The training can be accessed on our website via your account. If you prefer to provide access to your colleagues via your intranet, we can provide you with embed codes but would need you to sign an NDA to ensure the training is not released outside of your organisation. This NDA is available for you to download, complete and return to us via the training page.
Will we be expected to provide the Sunflower lanyards to our patients?
No, you are not expected to provide Sunflower products.
Can I have additional products?
If you need additional Sunflower items to the ones available in the free packs, all the Sunflower products can be purchased from our store by clicking here.