New Zealand is reopening to the world after closing its borders to foreign tourists and visitors for the last two years, due to the pandemic.
While the country has been closed, sections of the travel industry have been busy making themselves more accessible to people with disabilities.
Airports on both the North and South island have joined the Sunflower with Auckland, Queeenstown and Wellington ready to support wearers when they next pass through the terminal. And New Plymouth airport is due to launch the programme to passengers in the coming weeks.
Air New Zealand became the first Sunflower friendly airline in Oceania, ensuring you're recognised and supported throughout your flight. And now Sudima Hotels have become the first hotel group to support the Sunflower! Sudima has six hotels located in Auckland, Rotorua, Christchurch and Queenstown. With an additional two airport hotels at Auckland and Christchurch for transiting passengers. Within the Sudima hotels, there are spas and restaurants that also support the Sunflower so you can be sure you'll be looked after during your treatment or meal, making New Zealand an ideal destination for Sunflower wearers.
We spoke to Chief People Officer, Phillipa Gimmillaro, about implementing the Sunflower across the hotel group.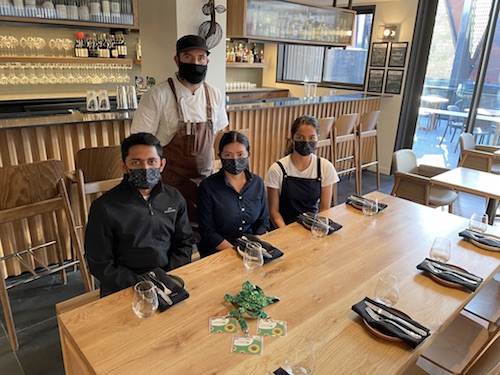 Why was it important for Sudima Hotels to join the Sunflower?
Sudima Hotels has always had a view around accessibility that our hotels should not just be welcoming but welcoming for everyone. We've worked with various partners over the years in opening hotels which involved having environmental audits around the physical spaces and in 2019 we joined a programme in New Zealand called Accessibility Tick which not only looks at how accessible the physical environment is but also looks at our employment processes and how we support people in terms of their accessibility needs. So when I heard about the Sunflower initiative it felt like a natural addition to our accessibility programme. We'd always considered physical disabilities but hadn't really thought about how to support people with invisible disabilities. I was reminded of attending a presentation given by an employee as part of a disability awareness day. This member of staff has a visual impairment. She would often not need to use her cane, so her disability was, a lot of the time, invisible. So when we found out about the Sunflower it took me right back to the narration of her experience.
As the Sunflower is already recognised at Auckland and Queenstown airports in New Zealand it was important for us to align ourselves with these airports to offer anyone wearing the Sunflower support both at the airport and at our airport hotels, should they need to stay at one of them.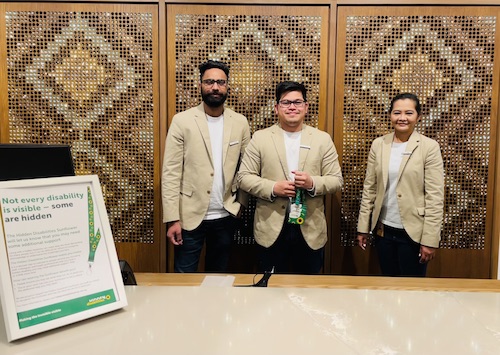 What was your experience of training and supporting your staff like – was it difficult to implement, as it would have been delivered across multiple locations?
We already run an inclusive customer service training programme which involves both online training and a face-to-face workshop. To roll out the lanyard scheme, I visited our South Island hotels and talked to team members, ensuring they'd all seen the Sunflower training videos and we produced an FAQs document to support Sunflower wearers across the hotel group.
How has the Sunflower been received by colleagues based at your hotels?
Our colleagues throughout the North and South islands are really excited to support the Sunflower lanyard. They were surprised to learn that there were so many invisible disabilities and that some conditions should be viewed as such. The Sunflower training has helped improve our awareness and also acted as a real conversation starter, getting us to talk more openly about disability, accessibility and inclusion.
Will you offer any Sunflower products?
Lanyards are available across the hotel group from the reception desks. There are information posters displayed at the hotel receptions and entrances to the restaurants across all our hotels to help raise awareness among all hotel guests.
Is there anything specific (beyond providing understanding, patience and recognition) that Sudima Hotels plans to offer Sunflower wearers?
During the Sunflower training we encouraged the team to think about 'what would make a Sunflower wearers experience really great'. Rather than focus on the person's disability, we focus on the person and, by using the customer service skills that our team already have, ask each individual what they need to make their stay easier. That might be a quiet place to take breakfast in the restaurant or a later checkout time so that they can take their time getting to the airport without having to wait in a busy lobby.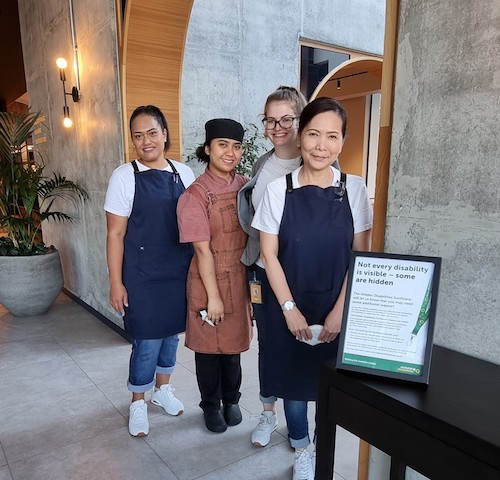 How can global travellers seek out accommodation that is Sunflower friendly?
You can find all the Sudima hotels on the Sunflower locator map or the Sudima Hotel website.
Why should other businesses within the travel sector become Sunflower friendly destinations?
If people were more aware and understanding of invisible disabilities it would really help the families and individuals affected by them and make travel a much more comfortable experience. To make this happen, a great starting point is if the personnel working in the industry are on hand to provide the support and allyship that is often needed.