Our In the Air campaign continues to gather momentum over in the USA with five new airports adopting the Sunflower during April.
These airports are:
Denver Colorado
Dallas /Fort Worth
Jackson Municipal
Salt Lake City, UT
Akron-Canton Airport
This month we were honoured to attend the American Society on Ageing Conference in New Orleans. Our Sunflower booth enabled us to introduce the Hidden Disabilities Sunflower to many new organisations and educators. Lynn Smith, Kelsey Boulanger and Jerry Edwards were all kept busy meeting many engaging people throughout the event. The New Orleans airport did a great job of displaying the Sunflower so many travellers recognised us when they passed by our booth. What a great event!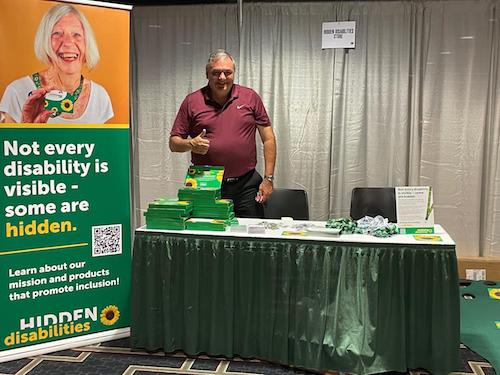 Across North America we also welcomed:
Berklee College of Music – Massachusetts
University of Maine- Maine
Staycation Body Works - Texas
Blooms Floral and Gifts - Nebraska
Person -New Jersey
Owens-Wight Memorial Foundation – Colorado
Fletcher Wright Associates – Ontario Canada
Open Arms Child and Family Services- Oregon
Aurora Audiology LLC – Alaska
It's great to see that the Sunflower is embedding across the 52 states as well as in Canada.