Taking off and touching down in North America
Our In the air campaign continues to gather momentum in North America as seven new airports have joined the Sunflower during the month of March, six in the USA and one in Canada:
Wilkes-Barre Scranton International Airport
Denver International Airport
Ontario International
Pittsburg International
Lincoln Airport Authority
Lehigh Valley International Airport
And, in Canada, Vancouver International airport.
At the beginning of March, Ruth Rabet and Lynn Smith from the Sunflower team attended the AAAE/ACI-NA Airport Customer Experience Symposium. The Symposium had representatives from over 90 airports from across the USA and Canada!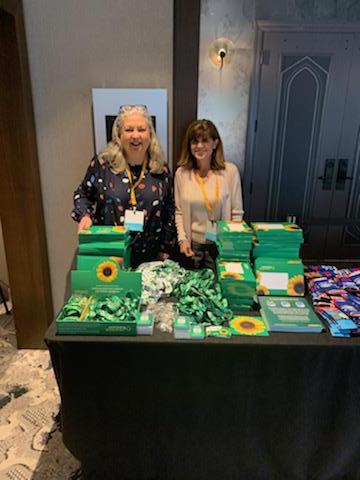 During the course of the event, we had the opportunity to present the Sunflower programme to the ACI-NA Marketing Communications & Customer Experience Committee Steering Group. During this discussion airports including: Seattle-Tacoma International, Orlando International and Minneapolis Saint Paul International, who already have the Sunflower, provided testimonies on how the Sunflower has assisted their ground staff in helping travelling families. It was amazing to hear the impact the Sunflower has made in such a short time!

We also participated in Shop-Until-You-Drop with all the great Sunflower products on display, including our new business sample pack. We gave out over 50 sample packs to interested airports who are now considering adopting the Sunflower.

The people at the symposium were so welcoming, they are a very collaborative group, sharing ideas and best practices on all traveller experiences. We were honored to attend and cannot wait for next year! We look forward to additional airports joining the programme soon!