We have had a very busy first year since our launch in Ireland. In that time, we have issued over 100,000 Sunflower lanyards, along with other wearables. Our website is frequently visited by both wearers and organisations that either support the Sunflower or want to start supporting the Sunflower. There is an abundance of information on our website, including a proximity map of organisations that recognise the Sunflower in your locality.
Organisations that have joined the Sunflower in Ireland during 2022 include:
Boston Scientific (Cork, Clonmel and Galway locations in Ireland)
Irish Citylink
PRM Assist, Dublin
SOUND – the Charity for Cataplexy and Narcolepsy
Wicklow County Council
Ennis Chamber of Commerce
MacDonagh Junction Shopping Centre, Kilkenny
National Gallery of Ireland, Dublin
Ryanair
Tesco Ireland
Trabolgan Holiday Village, Cork
We have many organisations waiting to undertake training about the Sunflower, and so the list will continue to grow through 2023. Sunflower training is an essential part of any organisation joining the Sunflower, so that we can be sure that everyone in the organisation knows what to do when they see a Sunflower wearer. You can imagine the immense challenge that Ryanair faced when training 17,000 flight crew and ground staff this year, across their 90 crew bases around Europe. We must remember where the Sunflower all began in Gatwick Airport in 2016, and in doing so, give a special mention to our Irish Airport members, they include: Cork Airport, Ireland West – Knock, Donegal Airport, City of Derry Airport, Belfast International Airport and Belfast City Airport. We continue to speak with Dublin and Shannon Airports and hope that they will join the Sunflower over the coming months.

During 2022, we were delighted to welcome to our offices Minister of State for Disability, Anne Rabbitte TD, who met with the team in Ennis, along with Paul White, CEO of Hidden Disabilities Sunflower. The Minister said "We are ready for the Sunflower, I think Ireland is in a really positive space when it comes to disabilities at the moment." We continue to work with Minister Rabbitte and her team to help raise awareness of non-visible disabilities and the Sunflower across Ireland.

We also attended a walking event in Ennistymon held by Shamrock Squad Adventures, who are one of our Ambassador organisations in Ireland. It was a great day out, despite the inclement County Clare weather, and we look forward to continuing working closely with Vika and Aline who started this Social Enterprise for families with children who have additional needs. Events are held regularly across the country, so please check their website for dates and times.
During the year, the team attended a number of conferences and exhibitions, including: Naidex at Birmingham NEC, Inclusion Ireland "Pathway to Inclusive Education" in Dublin, and Clare Children's and Young Person's Services Committee Trauma Informed conference in Ennis.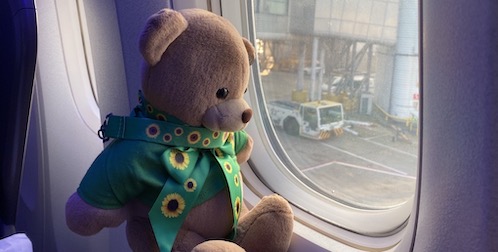 Grianmhar Bear (pronounced Gre-an-var and means Sunny in Irish) started travelling across Ireland and around the world to highlight the many places that recognise the Sunflower. If you want to follow Grianmhar Bear, then please add to your Twitter or Instagram using @GrianmharBear
Finally, Tristan, Scott and Maggie would like to wish you all a very Happy New Year for 2023, and look forward to meeting and hearing from many of you either in person, or through our Socials, including Twitter, Facebook, Instagram and LinkedIn.