If you require any assistance at Portsmouth International Port, please ensure you contact your ferry or cruise company to make the necessary arrangements before you travel. Your ferry or cruise company will take all necessary information from you regarding your assistance requirements and will inform our team before you arrive at the port for your booked sailing.
https://www.portsmouth-port.co.uk/
No longer hidden in manufacturing
Church & Dwight UK Ltd, the UK arm of the major American manufacturer of household and personal care products such as Arm & Hammer toothpaste, has joined the Sunflower to support their colleagues and visitors with invisible disabilities across their manufacturing plant, logistics network, research centre and UK office.
http://www.churchdwight.co.uk/
Supporting you, whoever you support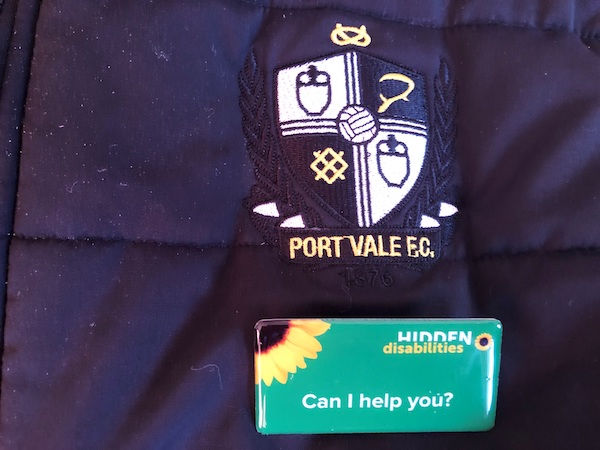 For the vast majority of Port Vale supporters, going to a game is a relatively pain-free experience, result aside of course. But for many fans, it can be a real challenge. This is something that the Port Vale Supporters Club and Port Vale are looking to address. They're working together on making football a more accessible and inclusive experience for people with disabilities. And part of their plan to level the playing field for people with invisible disabilites has been to introduce the Hidden Disabilities Sunflower at the club.
Mark Porter, Chair of Port Vale Supporters Club said, "We're really pleased to be part of the Hidden Disabilities Sunflower Scheme. It's important to us as a Supporters Club that all Port Vale fans feel that they can not only attend games but also feel comfortable while they're at the stadium, and being part of the Sunflower Scheme gives our fans that extra bit of reassurance knowing that staff are trained in how to help them should they need it. Since Carol & Kevin Shanahan took over, the club has gone from strength to strength in its offering to all fans and the Vale has never been more accessible. We'd like to thank the club for allowing us to share the benefits of the Hidden Disabilities Sunflower Scheme with them, as we share it's ambition to make Port Vale inclusive to all. We'd also like to thank Hidden Disabilities Sunflower Scheme for partnering with us to deliver this support."