March was a busy time here in Australia, with the exciting Sunflower launch for City of Melbourne at the 68th Annual Moomba Festival over a four day weekend. City of Melbourne is the first Sunflower Friendly city in Australia. The wonderful volunteers from Travellers Aid, who are also members of the programme, invited Hidden Disabilities Sunflower to share a marquee to increase awareness during the event.
In the air – two new airports in Oceania join the Sunflower

Kia Ora New Zealand!
We give a warm welcome to our friends at the Auckland Airport who have launched the Sunflower as flights here have now resumed after a long lockdown. "Our staff are really excited to be introducing a programme that not only brings a positive change for travellers but has broadened their understanding of hidden disabilities."
Perth Airport – Western Australia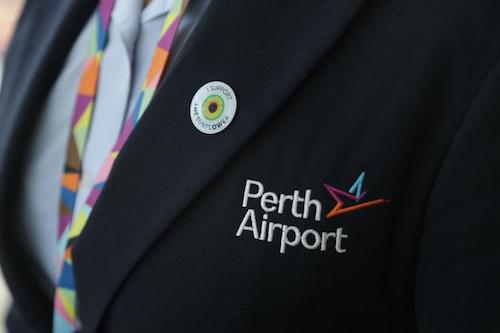 Travelling can be stressful, particularly if you have a hidden disability that isn't immediately apparent to airport staff. That's why Perth Airport have signed up to the Sunflower.
The Perth Airport team have been trained to recognise the lanyard and how to best provide the assistance and support customers may need. If you need any assistance or support when you're at the airport, look for staff wearing their white "I support the Sunflower" badges. They'll be looking out for you too!
If you or a loved one has a hidden disability, you can request a Sunflower lanyard or wristband via a form on Perth Airport's website to wear through the airport as a discreet way to indicate that you may need a little extra help, guidance or time with airport processes.
Perth Airport is offering both lanyards and wristbands to customers, although they recommend the lanyard as it tends to be more visible to staff during busy periods.
West Tigers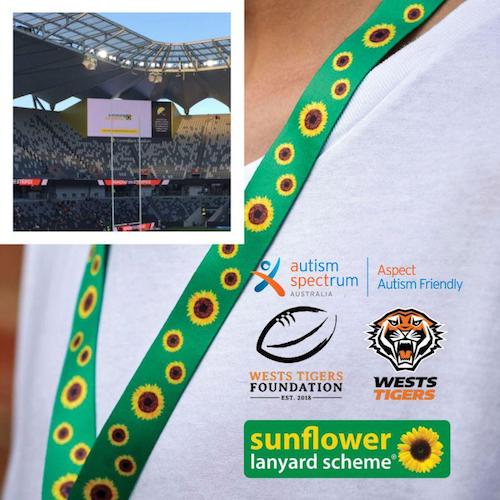 You may remember that last month the Wests Tigers Rugby League Football Pty Ltd. joined the Hidden Disabilities Sunflower Scheme working closely with Aspect Autism Friendly (ASPECT). Since then, the Wests Tigers won their first home game of the season at CommBank Stadium and played the Sunflower overview video on the big screen.
Little Athletics' Lilly - a story of Sunflower strength and resilience from South Australia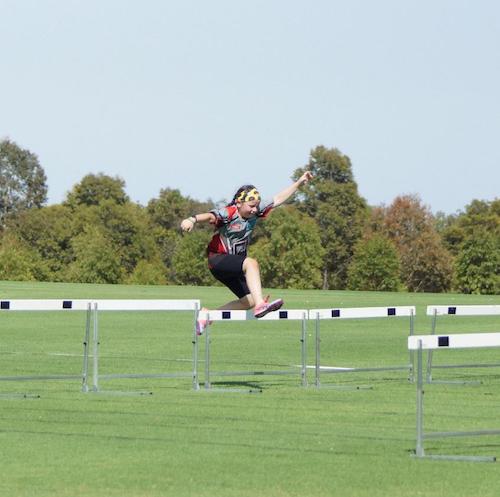 "Lilly has been with Gawler Little Athletics Centre for about four years now and has always struggled with the hurdles. They are by far her biggest fear. But since we (GLAC) were invited to participate in the Sunflower Project, as part of a trial ran by Little Athletics SA, Lilly and her family were happy to participate to try to make the most out of this season. Lilly has had a rollercoaster season, but she has made the choice not to give up.
The photo relates to one home meet where she was already unsettled, and she was not wanting to participate in the hurdles at all. Unfortunately, early in her run, she mistepped and she knocked the hurdle down and it struck her leg (causing a minor injury). Old Lilly would have given up. Before the project, she would have stopped half way through her run, had a meltdown and given up. But this season, she and her mother have been utilising the wrist band as well as a headband and scrunchie (that Lilly added). They make her brave and give her strength. They help Lilly to not give up and to keep going.
We then had a similar incident during the hurdles at a state meet over the weekend. Lilly was agitated and teary before the event even started. As she was lining up on the starting line, she broke down into tears. There was a state official who recognised the bracelet and took a moment to calm Lilly down before the event. Lilly knocked the first hurdle over, and despite her fear and anxiety, she continued her run. She cautiously made her way over each hurdle. She didn't stop. She didn't give up.
Lilly has come a long way in the last 12 months and I know that she is proud to participate in the project. Lilly always tries her best and she will continue to grow."
Fear and anxiety are real in young athletes and especially with the world in which we live in today. We don't know exactly how many children decide not to participate out of fear. Fear of being judged, fear of failure and so on....the Sunflower symbolises strength and hope and in Lilly's case, overcoming her fears and embracing her own strengths!