A place to grow
Tori's Woodland Adventures, based in a magical private woodland in Derbyshire, has joined the Sunflower! They provide nature-based play and activity sessions, with the aim of encouraging children and young people to connect with nature, each other and themselves. Tori's Woodland Adventures believe in child-led learning, free play and resilience building activities. Their passions are nurturing positive mental health in children, as well as encouraging the development of environmental stewardship. They do this by providing hands-on experiences in a natural environment, exploring the woodland and all it has to offer. They take care of their environment– and each other. With opportunities and space for both quiet time and rampaging through the trees, each and every child is guaranteed to find a space that makes them smile.
A place to stay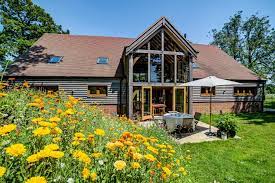 South Park Farm Barn, offering spacious, comfortable bed and breakfast guest accommodation in Wiltshire, now supports the Sunflower.
Nestling in tranquil woodland, in the rolling countryside of the Hampshire-Wiltshire border, the barn has been lovingly converted by the hosts, Casie and Ian, whose home it is and who are always on hand to meet guests' needs.
As guests you can be sure of a warm welcome at the Barn wherever you come from and whatever the reason for your visit. Casie and Ian will be pleased to help make your stay memorable and enjoyable. Drawing on a wealth of local information your hosts will gladly help you put together an itinerary for your stay in the area.
A place to explore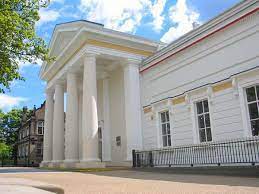 Since 1849 Leicester Museums & Galleries have been welcoming the public into their Museum Venues for free. And now we're pleased to announce that they'll also be supporting Sunflower wearers on their visit having signed up to the programme.
Leicester Museums and Galleries are a National Portfolio Organisation supported using public funding by Arts Council England. The six venues in the group include: Leicester Museum and art gallery, Abbey Pumping Station, Belgrave Hall, Jewry Hall, Leicester Guildhall and Newarke Houses.
These venues across Leicester will take you on a journey through Visual Arts, Archaeology, Social History, Natural Sciences, Costume and Technology.
Nationally important objects and collections you can see include: Charnia, the first fossil ever described to have come from Precambrian rock, the internationally renowned collection of German Expressionist Art and the most comprehensive collection of Picasso ceramics in the country; donated to the museum service by the Attenborough family.
The collections are a feast for the imagination, learning and study. Enjoy them through either visits to the museum venues, or via their digital resources or at one of their special events and activities.