The success of any new initiative within an organisation or business hinges on how well it is implemented and then adopted. Successfully supporting the Sunflower requires planning, training, internal and external communication, reinforcing and then embedding the Sunflower values within company culture. In smaller venues and organisations this is tricky enough but what if you're introducing the Sunflower at one of the world's largest events – World Expo 2020? We spoke with Steven Mifsud MBE, Director of Accessibility at Expo 2020, about his experiences of implementing the Sunflower, during a pandemic, at an event that received 24 million visitors, from every country in the world, over a six-month period.
Why was it important for World Expo to use the Sunflower to help make the event accessible?
We wanted to make World Expo an inclusive experience from the moment someone left home to the minute they made their return journey. A truly accessible experience. We found that a lot of disabled people wanted to attend Expo but they were worried about everything in between; the airports, the flight, the hotel. It was important for us to try and alleviate these concerns by using the Sunflower.
With a large scale event like World Expo; large in the sense of both its scale and longevity, how did you implement your accessibility training?
With such a large event like World Expo, there are thousands and thousands of staff. We had to make sure that every single employee was in a position to assist anyone that might need some support. With that sheer number of staff, it is not possible to train, or educate them about every single disability that somebody may have, that visits the event. But it is possible to train them to recognise the Sunflower lanyard, a way of someone subtly indicating that they have a disability and may require help.
Sometimes, when people think of disability, they often think of a person that uses a wheelchair. They don't quite have the knowledge of hidden disabilities - people with hearing impairments, people with learning disabilities, autistic people. So we needed a way for anyone with an invisible disability to communicate to the staff that they may require additional assistance. And the Sunflower lanyard was an incredible tool to help us achieve that. The Sunflower ensured that visitors that wore the lanyard were supported from the outset of their experience – going through security, visiting the attractions, managing the queues and crowded places. From an operational point of view, the Sunflower made things a lot smoother. Staff would see someone wearing the Sunflower approaching and make colleagues aware that there was someone arriving that may or may not require additional assistance.
What about staff turnover? How did World Expo ensure that transient staff were aware of the Sunflower?
Expo ran from October 2021 – March 2022, a time when the Omicrom variant of Covid-19 was virulent across much of the world. This meant that a lot of staff kept catching Covid, resulting in whole waves of staff having to leave and quarantine for 10 days at a time. New staff would arrive to replace those that were isolating, they'd need to be trained in special assistance and the easiest way to do this, was to provide them with the Sunflower training videos.
Organisations can access our Sunflower training videos by becoming a Standard Member. Once you have subscribed you can access the videos which will enable you and your colleagues to identify the Sunflower, gain an understanding of what a non-visible disability is, and become confident to approach and support people who are wearing a Sunflower.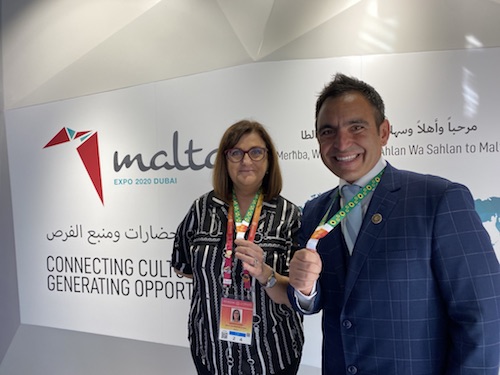 What about exhibitors? Did you ensure that their staff were aware of the Sunflower?
In addition to the main World Expo site with the thematic pavilions, there were 160 exhibitors from individual countries. These teams were managed by people from abroad and World Expo didn't necessarily have control over these staff. This presented us with a challenge. How would we effectively get the Sunflower message across? We therefore made it a requirement, that in order to take part in World Expo, each country had to ensure their staff understood what the Sunflower lanyard was. Some countries where the Sunflower is already established, were great and really engaged with the programme. Whereas some of the others were a bit slower to adopt the principles.
How did you ensure people attending the exhibition knew about the Sunflower initiative and where to find the products made available?
This was difficult. With over 24 million visitors planning on coming to World Expo, how do we get this to work? How do we inform people that if you need special assistance the Sunflower is available for you, this is what it represents, this is how to get a lanyard? Throughout World Expo there were Visitor Centres that provided information, maps and accessible facilities. This was also where people could collect a Sunflower lanyard from. When people bought their World Expo ticket online and indicated that they had a disability, the automated email that they received, informed them that they could go and collect a Sunflower lanyard from the Visitor Centres on arrival at World Expo and included some more detail about the scheme. Through our social media channels, we not only reinforced this message, but also sought to raise awareness among other visitors in the hope that they would recognise the meaning of the Sunflower too.
What were your main challenges and how did you overcome these?
One of the main things I struggled with at the beginning was trying to communicate how important the Sunflower was for people with invisible disabilities. Some staff were under the impression that everyone with a disability would have a carer with them, so why would they need a Sunflower lanyard to indicate they needed support? They didn't necessarily understand that the Sunflower is about independence and empowering people with disabilities. I was at a sticking point, trying to figure out a way of making everyone understand the importance of the Sunflower. I decided to ask Her Excellency, the Leader General of Expo 2020, to endorse the Sunflower and have her photograph taken holding the Sunflower lanyard. Instantly everything changed and things became a lot easier.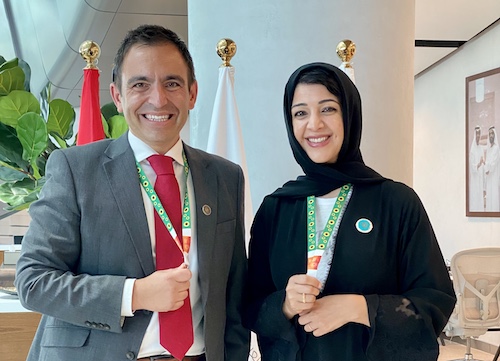 What would you do differently next time?
In order to make the Sunflower more widely accessible, I probably would have changed how the lanyards were distributed and made them available from all of the country pavilions, as some people didn't pass by the Visitor Centres. People arrived at World Expo with an idea of where they wanted to go, what pavilions and exhibitions they wanted to see and this didn't always include going via a Visitor Centre to collect a Sunflower lanyard. It would have been more beneficial if anyone that needed a lanyard could have collected one at the first point they went to upon arriving at World Expo.
I would also have delivered more social media campaigns about the Sunflower and increased on site visibility in the form of awareness posters and advertising to help all visitors understand what the Sunflower is for.
I'd also quite like to have an Expo unaccompanied by a pandemic!
The Sunflower is here to help
We will help you make your Sunflower membership a success. By joining the Sunflower as a Standard Member or above, you have access to:
The Sunflower training videos
Sector-specific advice on how to implement the Sunflower
Our Media Pack
Support from our team during your launch.
Steven is the CEO and founder of Direct Access, an award winning access consultancy www.directaccessgp.co.uk