Since we began recording the Sunflower Combersations in June 2020, we have produced over 50 interviews with people from our Sunflower community about a range of disabilities and issues.
Stories without borders
We've had the pleasure of interviewing people from around the world. There are conversations with people from the UK, USA, Canada and Australia.
In a recent conversation with Kellie La Follett from the USA. Kellie explains how she was caught in an unexpected mass radiation incident at the school she worked in. Unfortunately Kellie was sitting at the epi-centre of the radiation which has left Kellie in pain 24 hours a day that has increased over time. In-spite of the extreme pain and light sensitivity that Kellie lives with she has campaigned to ensure that an event of this nature cannot occur again.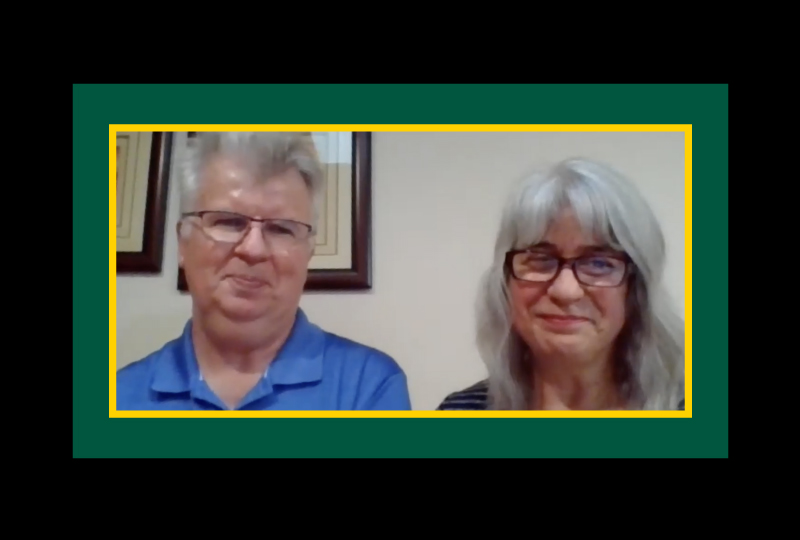 In Western Australia, we've met with Gerard and Josie Harrington. Gerard has a rare form of dementia called Posterior Cortical Atrophy (PCA), also known as Benson's syndrome. Gerard's condition means that his brain has difficulty processing things. This affects everything from his speech to moving around, as his vision is also affected.
Our colleague Kees, who is based in the Netherlands, has had some great chats with Dutch Sunflower wearers and advocates of invisible Disabilities.
Our story tellers span a range of ages with people from different employment backgrounds.
Experiences of education
In many of our conversations we've discovered what school life can be like for students with invisible disabilities. The education system, in the UK, has been established in such a way that doesn't necessarily lend itself to disability. School and further education can, therefore, be challenging for a lot of young people with invisible disabilities. Other children at school can be unkind and this can have a long lasting impact on people. But we have also heard that when compassion, empathy and understanding is shown, how it can transform a young person's experience.
In Dyspraxia, ADHD, Dyscalculia and Damp with Bailey the discussion focusses on the issues within the education system. Bailey is in a mainstream secondary school and has the following health conditions: dyspraxia, attention deficit disorder, dyscalculia and DAMP which means Deficits in Attention, Motor Control and Perception. Her parents, Steven and Aneeta, tell us how Bailey has exceeded the limitations of her diagnosis with support from them. Bailey's experiences at school made her decide to use her artistic talent to raise awareness and acceptance of invisible disabilities.
The disability employment gap
With regards to employment, we have learnt about the bias and the barriers that exist. But we've also heard that when employers have made adjustments for their staff, to accommodate their disability, and are ready to support that individual, how it's given the employee equity to fulfil their full potential.
In the episode "Let's talk about intersectional support", we talk to Marcus Morgan-Valentine. Marcus has dyslexia, narcolepsy, cataplexy, osteomalacia, chronic costocondritus, dyslexia and IBS. He is a youth worker, and performer, and is passionate about advocating for people with hidden disabilities.
At the age of 11 he was involved in a car accident and that was when the symptoms of narcolepsy started but he didn't receive his diagnosis until adulthood.
Our conversation covers the challenges of work, disability and race discrimination and how difficult it is to apply for PIP.
Marcus' rem sleep is only 4 minutes so when seeking employment he specifically seeks out businesses that support disabled employees and are forward thinking by making adjustments.
Sunflower supporters
In addition to Sunflower wearers, we have also spoken to specialists, industry leaders, businesses, charities and individuals who all advocate for people with invisible disabilities.
In the episode "Supporting families with additional needs", we speak with Benedict Symcox, CEO of charity, Family Voice Surrey, which is a parent carer forum. Benedict shares with us, how they engage with parents of children with additional needs, of which there are over 30,000 families in Surrey. Family Voice Surrey uses the lived experiences of real people to help inform the council's policy making and services. By listening to parents and carers they are able to create mini communities for them to feel supported, as well as offering training.
What makes this forum so heartening is the amount of support that there is out there to raise awareness of non-visible disabilities and encourage our key aims of: being kind, showing patience and offering understanding.
A space to share
Time and time again we hear how crucial it is for people with disabilities to have a community where they can share experiences with people who can relate to one another, to offer advice and receive support. We hope that our podcasts and videos do exactly that, provide both a platform from which people can make themselves heard and a space where you can come to find relatable and shared experiences.
Thank you to everyone that has spoken to us in the Sunflower Conversations. Through sharing your experiences you're helping to inform, support, raise awareness and reshape public misconceptions.
You can listen to the podcasts on a variety of Podcast aps including: Apple, Spotify and Overcast or access them directly from our webpage. Our videos can be found here on our website or alternatively on our You Tube channel
Share your Sunflower story
If you would like to share your story and feature in our Sunflower Conversations please email: conversations@hiddendisabilitiestore.com
We hope that you enjoy these conversations, please share them in your networks to continue to help raise awareness of non-visible disabilities and the Sunflower.